Frequently Asked Questions
Search:
Course Info
Academic Honesty, Course Expectations, and Copyright
Office of Water Programs (OWP) courses are administered and monitored by California State University, Sacramento (Sacramento State), and, therefore, are subject to the Sacramento State Academic Honesty Policy https://catalog.csus.edu/academic-policies/. Participants in our courses are licensed operators and individuals who are aiming to be licensed. They have a crucial role in maintaining the integrity and value of our courses to the profession and the communities they serve. OWP works to protect the integrity and accreditation of courses and materials by setting expectations for students and investigating violations of academic honesty and copyright infringement. This protection may include presenting different versions of course materials (including, but not limited to, exam questions) to different students.
As a professional participant enrolled in our courses, it is expected that all course work will be completed by you and that the course work demonstrates your skills and knowledge of the subject matter. As part of an educational community, OWP expects that all course participants protect the integrity of the curriculum and student grades. Activities that violate Sacramento State's academic honesty policy and OWP course expectations include sharing exam questions and answers, purchasing or acquiring exam questions and answers from others, turning in exams or other course work completed by others as the student's own, or any other misrepresentation of the student's knowledge or skills.
In addition, OWP course materials—including training manuals and exam questions and answers—are copyrighted by OWP. Publishing, reproducing, selling, or otherwise distributing any of OWP's materials without prior, explicit permission from OWP (except as allowed by law) is a violation of copyright.
By participating in OWP courses and submitting exams for grading, you acknowledge that you have read and understand OWP's academic integrity, course expectations, and copyright statement.
How do I become a water or wastewater operator?
What courses I should take?
If you're just beginning to think about operator training, here's some
certification information
to help you get started. Another resource for information about working in the water sector is
Work for Water
.
How do these self-study training courses work?
Study the course material at your own pace. Manuals may include self-study course instructions and recommendations for long-term learning near the table of contents to help you successfully complete the course. Most manuals include section questions, a Chapter Review, and an Answer Key that can be used to test your knowledge of the material as you move through it. We recommend that you familiarize yourself with the material in each chapter, using the section questions to assess your understanding of the material. Then answer the Chapter Review questions. Check your answers against the Answer Key (at the back of the book) and review the material about any questions that you answer incorrectly.
When enrolled in a course, you can complete your objective tests when you are satisfied with your mastery of the chapter content. (Check the course time limit to be sure that you submit all tests before your enrollment expires.) Testing instructions are provided when you enroll in a course.
How much time is allowed to finish each course?
Courses worth 0.6 to 3.0 continuing education units (CEUs) must be completed within three (3) months of the date of enrollment.
Courses worth 3.1 to 9.0 CEUs must be completed within six (6) months of the date of enrollment
Certificate program courses for academic credit must be completed within six (6) months of enrollment.
How long will it take me to study for the course?
The time to complete each course depends upon each person. Each individual sets his or her own pace, but we recommend that you establish a regular schedule such as one or two evenings a week or on Saturday mornings. Most students require from 50 to 150 hours of study to complete each course.
Why do you stop grading older editions after a new edition
is published?
New editions of our courses are developed to ensure that students receive the most current information about processes, regulations, and technologies. Once an edition has been replaced with a more current version, it is no longer appropriate to grade tests that are based on outdated material. Courses that have been successfully completed may only be repeated when a revised edition becomes available.
During the transition period from one edition to the next (usually 6 months) we grade both versions to accommodate those students who had just begun the course when the new edition became available.
To ensure the best test results, it is important that the edition of the manual you are using matches the edition of the course you are enrolled in.
How do the online courses work?
Most online courses accompany the print training manual. Each course assigns readings from the training manual and delivers related lessons, videos, interactive exercises, math practice activities, and online exams over the Internet. Please be sure you can meet the System Requirements before completing your purchase.
The online math courses provide step-by-step explanations of calculations operators use on the job and the concepts behind the calculations. Each course is presented in both US customary and metric units and students can select the unit system to use for the final exam. Online math courses do not assign readings from the associated training manual. Students are encouraged to purchase the training manual for more information about the processes and procedures the math concepts and practice problems apply to. Watch our preview video for more information on the online math courses.
For a complete list of online offerings, see our Online Courses page. (Note to Texas and Washington operators: Your states require that your exams be proctored and that an affidavit be signed by your proctor. After purchase, you will receive detailed proctoring instructions.)
Can I take more than one course at a time?
You may take more than one course at a time, but remember that the course time limits apply to each course you order. That means that if you enroll in two courses with 6-month time limits at the same time, you must finish both within the same 6-month period. Enrollment time limits begin on the date you place your order.
Exam Info
How do I take an online exam?
Follow these steps to start taking online exams:
Log into your OWP online account or create one as a first-time user.
Note: Each chapter exam has a 3-hour time limit. Schedule your time so you can finish in one session.

---

Click the 'Course Enrollments' tab.

---

Click a course title in 'Active Enrollments'.

---

Click 'Start online exam' for the chapter test you want to take. Simple instructions guide you through your online exam.
How do I get a paper exam booklet and answer sheets?
Paper test booklets and answer sheets are available upon request and for a fee. Online tests are included in your enrollment at no extra cost. To request a paper test booklet and answer sheets, call OWP at (916) 278-6142 or email:
wateroffice@owp.csus.edu
.
Why are the questions in the paper exam booklet different
than the online exam?
To accurately assess each student's knowledge of the course content and to protect the integrity of all the exam questions, OWP may provide different exam versions or test questions to different students. Please see the Academic Honesty, Course Expectations, and Copyright section of this FAQ for more information. Select an exam method, follow the directions provided, and answer the questions presented in that exam method.
I have more answer sheets than there are chapters—do I need to
do the final exam?
No. The extra sheets are in case you make a mistake. The Final Exam/Comprehensive Review Questions are provided for you to review how well you remember the material.
I have answer sheets but no questions—why didn't I receive a
question booklet?
For Small Water Systems Video Information Series, the test questions are inside the manual at the end of each chapter and no separate question booklet is needed.
Do exams need to be proctored?
Some states have proctoring requirements for course exams. For more information, please see State Requirements.
CEUs & Transcripts
How many Continuing Education Units (CEUs) can be earned?
The continuing education units (CEUs) for each course are determined using the amount of instructional material included in each course. The CEUs for each course are listed in the online course catalog below the course description (see the red box in the example provided). The equivalent contact hours are also listed.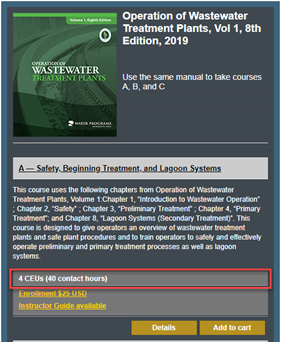 What is the difference between CEUs and units of academic
(college) credit?
Continuing education units (CEUs) are offered for all OWP courses, and are designed for use where employers, relicensure agencies, and other authorities require a specified number of hours of study on a regular basis for career advancement purposes. Only students enrolled in the
Water Treatment Specialist Certificate
or the
Wastewater Treatment Specialist Certificate
programs can earn academic credit that may be applied to college degree programs.
Do I get a certificate when I finish?
Yes. Upon successful completion of each CEU course you will receive a Certificate of Completion from California State University, Sacramento.

To order a duplicate of your certificate, please login to your account, click on the Student History tab, and select the "Purchase Duplicate Certificate" link.

If you are taking a Specialist Certificate Program course, upon completion of all three courses, a Specialist Certificate will be awarded from California State University, Sacramento.
How can I obtain a transcript for the courses that I have
completed through the Office of Water Programs?
To request a
CEU Transcript
, please login to your account on our website, click on the
Course Enrollments
tab, and select the "Purchase CEU Transcript" link. Or you can contact OWP by phone (916) 278-6142 or email:
wateroffice@owp.csus.edu
. To process your request for a CEU transcript, we will need the following information: your name, address, telephone number, and email address.
To request a
College Credit Transcript
(for Specialist Certificate Program courses), please contact the
Sacramento State Office of Admissions and Records
.
Ordering
Can I use veterans benefits (G.I. Bill, Voc/Rehab, etc.) or military tuition
assistance to pay for OWP courses?
How long will items remain in my shopping cart?
Your items will remain in your shopping cart for 30 days. If you do not complete your purchase within that time, the cart will be emptied and you will need to begin your shopping again.
How can I place my order by mail?
To place an order by mail, fill out this
Printable Order Form
, print it, and mail it to our office.
Because shipping charges vary depending on weight and destination, we recommend that you call our office to calculate exact shipping charges before mailing your order form.
Shipping
What is the grade requirement to earn a certificate of completion?
A grade of 70% or better overall is required to earn a certificate of completion. The final course grade, given as a percentage, is the number of points earned for all correct answers on all chapter tests in the course divided by the total points possible for those chapter tests.
Can I have orders sent to prisons?
OWP delivers to prisons, but we strongly suggest you contact the prison first to confirm that they accept deliveries and to note any special regulations the prison might have. Some prisons don't allow delivery of books. Others place a limit on the number of items contained in a package.
We're unable to affix any special labels or instructions to the packages. On the outside of the package we will indicate only the destination address, our company name, and our return address. We also cannot allow gifts to be sent anonymously to inmates; the sender's billing address will appear on the payment receipt included in the package.
Because inmates cannot sign for deliveries, packages must be sent via US Mail. To avoid delivery problems, you might consider having the items shipped to you via UPS and then shipping them to the prison via US Mail.
Where is my package?
Please check the confirmation email you received when you made your purchase for tracking information. If you still cannot locate your materials, please contact our office at:
(916) 278-6142 or wateroffice@owp.csus.edu
Please remember that orders placed after 1:30 pm will not be processed until the next business day. OWP business days are Monday through Friday.
How do I return items that I do not need?
Can I have my order shipped with a carrier other than UPS?
Yes. For shipments using the U.S. Postal Service, FedEx, or customer accounts, please contact our office at (916) 278-6142 or
wateroffice@owp.csus.edu
Self-Help Center Account Management
Will OWP keep track of my State Operator Number?
Yes. If you have a state-issued Operator License Number, OWP can link it to your enrollment account. This will improve long-term coordination of record keeping between your state agency and your educational achievements. Go to the
Manage My Account
section of this website.