American River Salmon Restoration
---
The Lower American River is a spectacular regional and statewide resource. It is the second-largest tributary to the Sacramento River, which is a critical component of the San Francisco Bay and Sacramento-San Joaquin Delta. The Folsom Dam and Reservoir, located at the confluence of the North and South Forks of the American River, provide flood control and drinking water to nearly one million residents of the Sacramento region. The river is home to 43 fish species, including federally threatened Central Valley steelhead and struggling fall-run Chinook salmon.
A consortium of local, state, and federal agencies, including the Sacramento Water Forum has been working for over a decade on habitat improvement and water temperature management actions to reduce stressors to our iconic salmonid species.
In addition, the Water Forum has developed a Modified Flow Management Standard (Modified FMS) for the Lower American River, with the goals of protecting anadromous salmonids and avoiding catastrophic water shortages in the basin. After 15 years of study and refinement, the Water Forum strongly believes that this standard represents the best path forward for protecting these local resources without re-directing negative impacts to other regions.
---
Topic: Flow and Non-Flow Salmonid Restoration Actions on the Lower American River
Speaker: Tom Gohring, executive director, Sacramento Water Forum
When: Friday, October 6, 2017, 12 p.m.–1 p.m.
Where: University Library, 2000 State University Drive, Library 11

Map
---
About the Speaker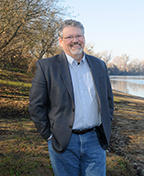 Tom Gohring has been executive director of the Sacramento Water Forum since 2007. He has spent three decades working on water resources and civil engineering projects, often specializing in collaborative solutions. Before joining the Water Forum, Tom led several interdisciplinary water management projects under the employ of local, state, and federal agencies and consulting firms. He has an MS in engineering from UC Davis and a BS in agricultural engineering from Cal Poly, San Luis Obispo. He is a licensed civil engineer.
---