Sites Reservoir Project
---
Topic: Sites Reservoir Project
Speaker: Jerry Brown, Sites Reservoir Project Manager
When: Friday, March 12, 12 pm to 1pm
Where: Virtual (via Zoom)—Link to virtual seminar to be sent upon RSVP

The recording of the webinar is available here.
---
The Sites Reservoir Project recently made a big shift in the direction of the project to be more affordable, permittable, and buildable within the next decade. The audience will learn about the value engineering undertaken to make this transition and the unique structure of the Project involving 9 Sacramento Valley local governing agencies, 21 local water agency investors from across the State, the Bureau of Reclamation, and the State of California through its Prop 1 conditional award. The presentation will describe the evaluation of Project feasibility to support funding through the Prop 1 process.
About the Speaker
---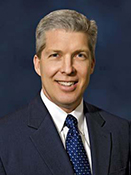 Jerry Brown
has 34 years of experience including planning, design, construction, operation, and maintenance of water, wastewater and water recycling systems for urban areas. He started Waterology Consulting in January 2020. In March 2020, Mr. Brown and Waterology were selected to perform Executive Director services for the Sites Reservoir Project. In this capacity, Mr. Brown serves in the lead role overseeing project development and he reports to the Sites Authority JPA Board of Directors and its Project Reservoir Committee. Previously, Mr. Brown served as General Manager of the Contra Costa Water District (CCWD) for 9 1/2 years through December 2019.
Jerry is a registered Civil and Mechanical Engineer in California. He holds a Bachelor's Degree in Mechanical Engineering from California State University at Northridge, a Master's Degree in Civil Engineering from the University of Southern California, and a Master's Degree in Business Administration from California State University at San Jose.
---