Operation and Maintenance of Wastewater Collection Systems, Volume 1
Preview Content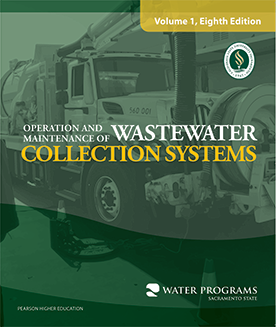 Objective
This course provides training in the safe and effective operation and maintenance of wastewater collection systems.
Scope
This course is designed to train operators in the practical aspects of wastewater collection system operation and maintenance (O&M), with an emphasis on safe practices. The material focuses on the knowledge and skills operators need to identify system problems and select appropriate methods to solve them.

Topics include the responsibilities of the collection system operator, the need for collection system O&M, and the typical components and design of collection systems. Operators learn about safe procedures for:
* Working in traffic with temporary traffic control (TTC) devices
* Setting up and working in excavation sites requiring shoring
* Following confined space entry requirements
* Inspecting and testing new and rehabilitated sewers
* Completing underground repairs and construction

Collection system inspection methods and equipment are discussed in detail. Topics include closed-circuit television (CCTV) equipment, clearing stoppages, cleaning sewers, and controlling corrosion and other problems in collection systems. The Check Your Understanding questions throughout the chapter and the chapter review at the end of each chapter give you the opportunity to self-assess your understanding of the material by answering fill-in, matching, and multiple-choice questions. You also practice solving math problems related to collection system O&M in the appendix that provides a thorough introduction to basic math for operators.
9 CEUs (90 contact hours)
Course Time Limit: 6 months
Table of Contents
Learning Objectives (Click chapter title to open)
Other Sections
Appendix A, Introduction to Basic Math for Operators
Answer Key
Glossary
Index