Construction Log: December 7, 2015
Construction of the campus LID BMPs is complete with the exception of a few forthcoming modifications.
The porous pavement at Calaveras Hall and Library Green is raveling in some locations although the materials and installation methods were the same as those used on Jed Smith Drive. The design team is currently evaluating potential corrections.
---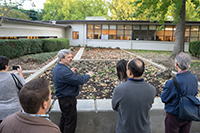 The contractor will be returning to Calaveras Hall to clean up the disconnected downspouts, which are currently unpainted and have rough edges. The cleanup will include adding elbows to better direct the roof runoff in the conveyance gutters. The contractor will also remove an unused irrigation line that was inadvertently replaced along the west side of the building, partially covering the conveyance gutters on that side. Disturbed areas around Library Green, Campus Grove (River Front Center), and Calaveras Hall have been seeded with grass and are undergoing vegetation establishment with all other vegetation at the LID BMPs. At all locations, the plants are being evaluated for overall health and will be replaced as needed.
---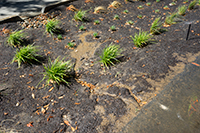 Having observed their performance after the few fall storm events, the LID BMPs are working as expected with the exception of the rain garden along College Town Drive closest to Lot 10, which does not infiltrate as quickly as intended. It is likely that a clay confining layer is preventing infiltration. The design team is currently developing mitigation strategies. Planning and design is also underway to address unanticipated ponding at the north and south ends of Jed Smith Drive. Additional valley gutters and drain inlets will likely be installed to alleviate flooding in these areas and direct runoff to the new rain gardens.
---
OWP monitors the LID BMPs, including collecting samples during storm events for water quality analysis and measuring flows. The data is used to calculate volume and load reductions and assess the projects overall performance.The public, including stormwater professionals, can learn more about the project through multiple outreach activities: signage, a self-guided walking tour, the project website, and a presentation at the February STEM series lecture on the Sac State campus. The self-guided walking tour is accessible by smart phone. The program was developed by Sacramento State's own Computer Science students. The project website, developed by OWP, includes these construction logs as well as schematics, design drawings, and specifications for each installation.Find out more about these opportunities on the Education and Outreach page.